Repairs are the
heart

of all good bike shops

 
but you never need to come here
because your bike NEVER breaks down...
...or not?
Bring your bike here,
we make all bikes work...
better
our rates are small-town affordable
we can fix your bike right away
our mechanics are perfect
our staff is always happy
and we're never mean about your bike being dirty.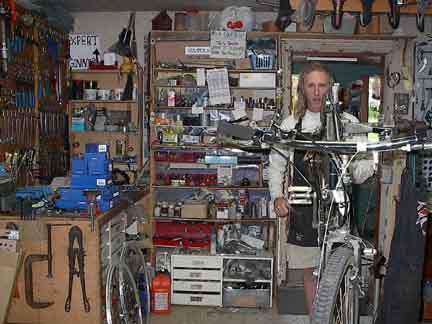 If we can't fix it, we'll fix it so no-one can.
Don't believe us? Here's what other people are saying:
Hi Bloomfield Bicycle Co! My wife and I have been checking out the county and Bloomfield for a couple of years. We first went there for a weekend vist after I found your web site and decided Bloomfield would be good. Too true. You people are great ambasadors for the county, particulary for us bike freaks. On one trip I forgot about my bike on the roof rack and hit a tree branch. This was a fork secured rack and the carbon fork was torn from the quick release twisting the aluminum boots badly. I brought it in and one of the "chics" straightened it with a love tap. No charge!!! She knew I was hurtin' and felt that as I probably should replace the fork ($300.00-$400.00) she didn't want to add to my expenses. I just want to say thanks." -JJ
My name is Jim Boate and I lead small groups of seniors on bike trips from the Oshawa area to Montreal. (we ussually take the VIA rail back home) I always go through the county as it is one of the nicest parts of the trip. On a recent trip (Aug 12) one of our group developed a problem with his back wheel. We stopped at the Bloomfield Bicycle shop in Bloomfield and all though they were quite busy, apon seeing us with fully loaded touring bikes, they went right to work diagnosing and fixing our problem. When we went to pay, they said there was no charge as we didn't require any parts, only labour and they hoped we enjoyed our time in the county. We will never forget that type of generousity and what a wonderfull time we had in your area. We would like to take our hats off to Katy and Rick of the Bloomfield Bike store and say thanks again. These are the kinds of things that make us want to come back again and again. By the way we are George from Windsor age 74, Ross from Oshawa age 71, George from Oshawa age 66 and myself Jim from Courtice age 65, the baby of the group) Thanks, Jim Boate, Courtice Ont.
Just wanted to let you know how impressed I was with the service provided recently when I took my 2 bikes in prior to our vacation at sandbanks. The sarcasm and easy going attitude was a refreshing change from what we are used to and my son Eric now realizes his Dad is not such a stick in the mud for pulling the plug on tv for july and august. We actually went on some of the routes recommended and had an amazing time. Thanks again for a great start to our vacation. Take care !!!!
Hi Katie and Rick, Just wanted to thank you for servicing my Aquila and Urbane bikes this week. I rode the Urbane on wednesday and it has never shifted better. It was a lot of fun hanging around your shop getting in the way while the two of you tag teamed the repairs. Awesome. Keep up the good work. You have my highest recommendation. Good riding, Ron
Just wanted to thank you again for your wonderful service over the weekend. The tune-up was great, the new stem a gem, the cadence computer installation so fast and completely the extra mile, AND it was very generous of you to lend us the tandem - which we thoroughly enjoyed. I will continue to sing the praises of BBC to all and sundry. For all that, I really should have bought that damn cycling skirt!! Hope to see you again before the season is out. Thanks again, Charlotte