We also sell Used Bikes at the Bloomfield Bicycle Company.
We do sell plain old Used Bikes. (Previously enjoyed bikes of many shapes and sizes that have drifted into the BBC universe somehow). We've found 'em or traded for 'em, or assembled them out of various materiale around the shop. We tune them up and set them up for appropriate sized riders and get 'em back out there to fulfill their potential. The BBC warranties each Used Bike for One Year. Sometimes we get the used bikes listed on this webpage, but most often we do not. Used Bikes come and go so quickly! Drop by to see if a bike in our Rescue Bike Haus might suit you.
We also sell used bikes (and gear) FOR people. We sell them here On Consignment. You can check those bikes out on this page. Consignment bikes have no taxes charged on their price, and we do not warranty them in any way. (But we won't sell unsafe bikes no matter what) We want to help folks get used bikes back out into circulation (and reach their full potential, as well). 
We also sell bikes that have been used as Rental bikes here at our shop. We consider these bikes sort of half-way between Used and New; kind of like a Demo car at a dealership. We still have a few bikes left from the 2017 Rental Fleet sale Limited Selection. (Obviously)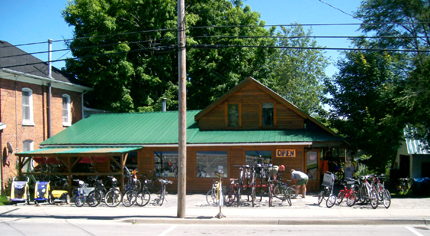 1980s Miele Azsora 62cm
2012 (M) KHS Prescott. UPGRADED
Ladies' Free Spirit (L)
2014 Ladies' Green3 coaster 17"
Ladies' style Velo Sport w/basket
18" kids' Raleigh HOTROD
(S) Ladies' DB Wildwood 
70s Glider 3-speed Ladies'
CUSTOM 24"x1" mixte road bike
58cm Raleigh Record (Canadian)
Ladies' Ridge Runner
that BMX "look" ...sweet!